Okay, I have not posted anything for a long time, because I am very busy with studying the Linux fundamentals and something else. First let me tell you that I took some courses back in college (I believe in 2012-13) and I can say that I completely forgot 80% what I learned. So I hit the books and did some studying during this COVID-19 period.
I am not sure if I want to continue learning Linux and take the CompTIA Linux+ (XK0-004) or the Linux Professional Institute LPIC-1 (101-500) exam after 2021. However, I do want to remember what I studied 7-8 years ago. Back in the day, I was energetic and curious about the Linux kernel and the free software that people contributed. Now, I'm just curious.
So, if you are curious about Linux and want to learn something for free, then I recommend these two free online self-paced courses. What else are you gonna do in 2020?
Once again, Cisco offers some Linux beginner study material at their NetAcad web page (Cisco Networking Academy) and it's pretty short. How short? Like 8 hours worth of study material and that is it! I just finished reading the web pages for like 2 and half hours. This is your basic Linux fundamentals and it's for people who have never touched a Linux distribution or want to learn about Linux for the first time..
I would recommend this course only if you have the time to read some text and spend like 8 hours of your life learning some important terms and playing with the virtual terminal. It's short and straight to the point. Sadly there are no videos or any kind of forum where you can ask questions from your peers.
If you don't like it, you can just unroll from this course. The best thing about this is that it's free and simple to read.
So did I like it? Well yes... kind of... I'm not sure. I like it, because it has easy to read level material. Another great thing about this course is that it has a terminal window that allows you to input some commands. The terminal loads on the browser and it feels like you are communicating with a real operating system. I'm not sure it's the best free online course of study, but this free version offers a great value for people who don't want to spend big money on college books.
One thing that needs improvement is that one can read and do some labs in less than 8 hours. It just feels like you are barely touching the surface of Linux and open source. I have mixed feelings about this intro course, but I would recommend it to people who never open a terminal window.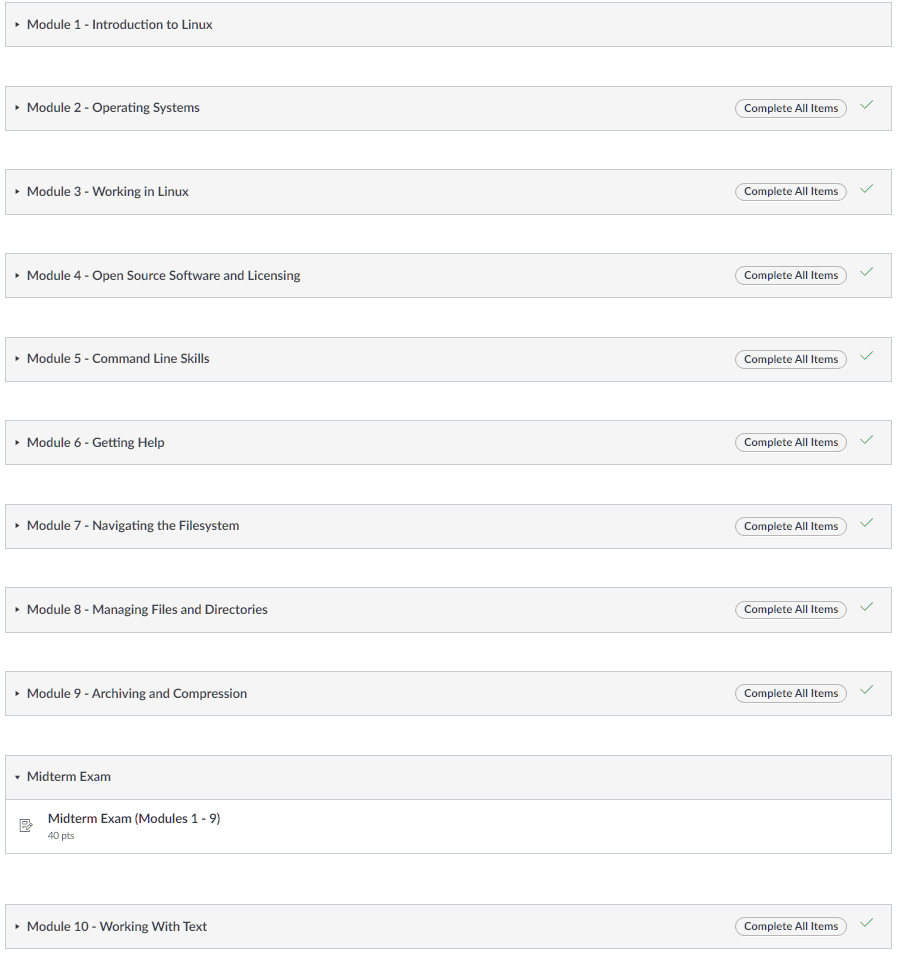 Now let me tell you about something that is tougher and it has more "meat". The Linux Essentials is like your college's 101 course: your intro to the subject. I believe that I have forgotten the fundamentals and this free course was the right thing for me.
There are 18 sections and each section may have around 3 hours of study material. So every week, I only studied like 3 hours (three days and each day was like one hour of studying) and finished on my 20th week. Some sections were tough to read and while others were a bit challenging in the lab sections.
So after I finished the course, I got a certificate. I noticed that on the certificate of completion I described a 20% off of the Linux Essentials certificate (Exam code 010-160) examand that would bring the exam cost to like $96. I wanted to learn more and click on the link.
Now, I was disappointed with what happened next.
It gave me a 404 error.
Reading the Linux Professional Institute web site and looking for some kind of information for the discount gave me zero result. Lastly I just email someone from the contact information about the discount and the reply was:
>
Hello,



Unfortunately this discount has been discontinued. We apologize for the inconvenience.



Regards,



Kevin
Well great. :<
I don't think I am willing to spend over $100 for a Linux exam and for a certificate, but deep down I want to try the exam for fun. Just searching the internet for discounts for the exam let me to Jason Dion. Dion Training offers IT courses and discount vouchers, so check them out. I think I am going to check this out later in the future.
Now, I had fun and gained some open source knowledge. I would recommend Cisco's Netacad if you want to learn something. However, the Linux courses lack videos; therefore, it may be boring for some people who want to see an instructor explain the subjects.
If you want to learn more about Linux and see if there are any other free or low cost learning materials, then go here:
https://learning.lpi.org/en/learning-materials/010-160/
Next time, I will let you guys/gals know about another course I am taking. So see ya.
---